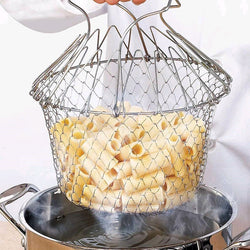 ☂【Creative kitchen gadget】It can be self-converted into dozens of ways to use it. Use it to cook, steam, fry, simmer, steam, rinse, and drain. The best part is the folding flat and easy to store.

☂【Multifunctional frying basket】 Can be used to store fruits and snacks, it also can be used to fry potatoes, chicken, and other fried foods or to cook pasta. Great helper for the kitchen. Colander basket is also great for sifting, filtering, and straining out impurities. The uses are unlimited.
☂【Space saving and easy to clean】Collapsible frying basket nest together to flat to save space when not in use. Just need to clean it with water and detergent, then dry it with towels.

☂【High quality】Made from high quality, durable, eco-friendly, and food-safe stainless steel 304 material to meet the people's growing health standards and assure unmatched longevity.
☂【Product include】1×chef basket.