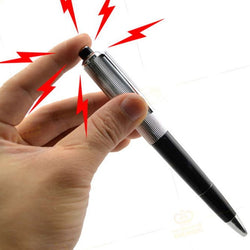 Are you tired of people borrowing your pens or are your roommates just bugging you? Well now you can extract your revenge upon them with extreme cruelty using a prank pen that has some quite shocking qualities!


The Shock Pen is a fully functional pen that delivers 50-70 volts of shocking power directly into your unsuspecting victim's clicker finger! While certainly a scary prank, the Shocking Pen's jolt is 100% completely harmless, so it makes a great prank for both a joke or revenge!


Get revenge on family and friends !